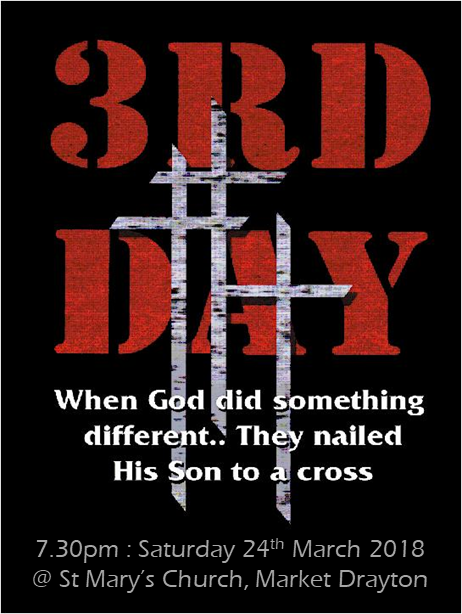 Devised, written and arranged by members of Market Drayton Methodist Church, and performed by members of churches from across Market Drayton & surrounding villiages, 3rd Day is a dramatic, musical re-telling of the Easter Story.
Described by BBC Radio Stoke as a "phenomenal performance", 3rd Day takes us through the world changing events that we now call Easter.
Tickets are free but there will be an opportunity to make a donation.
For tickets enquire at any of the Market Drayton Churches or email mdmc3rdday@hotmail.com.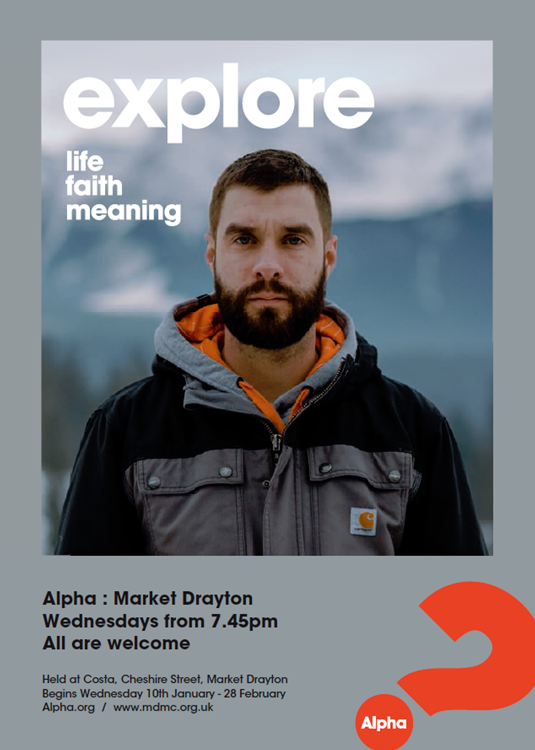 You are invited to an Alpha Course!
We spend our lives 'doing' so much, that we rarely get the time to sit down and talk about what life is all for! The Alpha Course is designed to enable that very conversation in the context of the Christian faith, to enable you to ask questions and explore what life and faith might all be about for you. The Market Drayton Alpha is run in Costa (first drink is on us!) and uses the Alpha Film Series to introduce each week's topic.
The course lasts for 8 weeks, with an invitation to an additional Saturday session. It's all free (unless you want to buy more coffee!!) and with no need to sign up beforehand, or make any commitment. We would love to see you there: 7.45pm, Costa Coffee, beginning on Wednesday 10th January.
If you want to know more, check out Alpha.org or contact us through the contacts page on this website.
We and the other churches in Market Drayton are really excited to invite you to 'Buttercross to Bethlehem'. It'll be a fab event for all the family, to get everyone in the Christmas mood by telling the story of the very first Christmas, with a chance to join in some carol singing and see live animals, and even a real baby Jesus! The event begins at 4.30pm and will run for approximately 30-45 mins, so get yourselves togged up and come and join us down on Cheshire Street (we'll be starting down by the Library, but you can line the street between there and the Buttercross and everything will pass by you anyway! At the end of the performance you'll be invited into the Buttercross/stable to see the miracle behind the Christmas Tree. The whole event is free and we'd love to see you there!
MDMC Loving, Caring and Serving in the name of Jesus
Market Drayton Methodist Church, Shrewsbury Road, Market Drayton, Shropshire, TF9 3DL